By:brightwebtv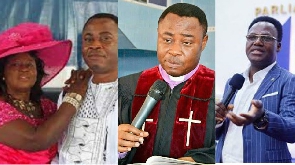 Apostle Francis Amoako Attah and late Rev Kwadwo Boakye
The Founder and Leader of the Lord's Parliament Chapel International, Apostle Francis Amoako Attah, has disclosed that he gambled with his church to save the late Rev Kwadwo Boakye, who died because of the leaders around him.
According to him, heaven's gate were closed on the leader of Resurrection Power New Generation Church (RPNGC), who was popularly known as Sofo Boakye, the very day one of his apostles in Kumasi attacked him [Amoako Attah].
"I'm the one who gambled with my church…I sat on this radio and said that when the angels visited him, his gates were wide open, so I advised that they keep on praying for him. But one of his men in Kumasi attacked me. His actions on that day cancelled out all their prayers during their 21 days of fasting and prayers," he said in an interview on Angel FM, sighted by GhanaWeb.
Apostle Amoako Attah, who describes himself as a seer, added that the late Sofo Boakye's condition deteriorated after that incident.
"The man started dying that day; that was the end. Heaven closed on him."
Apostle Amoako Attah reiterated that, even though he organized a 3-day fast and prayers for Osofo Boakye, the leaders around him didn't help with his recovery process.
He added that, the late Sofo Boakye would have publicly died on the altar of his church if he was brought there again in his detrimental condition.
"The man started recovering after my church held 3 days dry for him. I also came out to say, they shouldn't be in a hurry to bring him to the church, especially when he was not completely recovered.
"He had not fully recovered; they were lucky, he would have died on the altar. If they had brought him back to the church to show to the congregation that their pastor had recovered, he would die on the altar…The man is an evangelist, I am an apostle and a seer. So when I involved myself in the case, he started recovering, now look at what has happened."
He finally sent a warning to the family of the late evangelist.
"I want to let them know that the deaths have not ceased, the caretaker will inherit the same sickness that killed the man. He will get diabetes, 3 of the leaders. I have to pray for his wife, or else she might die before the year ends. I am pleading with the family to come together."