by;brightwebtv/nana asare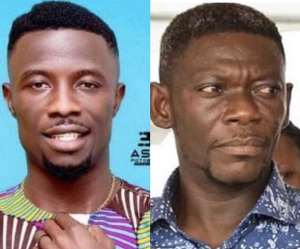 Kwaku Manu, an actor, musician and radio presenter has heaped praises on Kumawood star Alex Kofi Adu, better known in movies as Agyakoo.
Kwaku Manu stated that Agya Koo was an inspiration to him long before he began his acting career.
He stated that he used to watch Agyakoo on television and decided to emulate him to become a celebrity like Agyakoo.
Kwaku Manu stated in an exclusive interview with Ghanaian blogger Poleeno on Monday, June 20, 20222, which was monitored by this portal, that Ghana should commemorate Agyakoo by erecting a statue of him in Kumasi or Accra.
He noted that Agya Koo was once the saviour of the Ghanaian film industry, even going so far as to assist the local industry to secure the huge sums of money that we were being lost to other countries in terms of movie patronage.
"Agya Koo is the reason we are where we are today, he has been an inspiration to many of us in the industry including myself. I think we need to build a statue in his honour whether in Kumasi or Accra.
"President Kuffour even awarded him because he helped us to retain the amount of money we were losing to Nigeria in terms of patronizing their movies. I used to watch him on television and through that, I was influenced to act, all thanks to him and I am not going to change my statement because that is the truth of the matter," he stated.
Prior to this interview, Kwaku Manu told another Ghanaian blogger, Zion Felix, in a similar interview that he did everything he could to ensure the popular actor (Agya Koo) returned to acting after a long break.
Agya Koo is back and appeared in "Away Bus," a Ghanaian film that also starred Kalybos, Fela Makafui, Yaw Dabo, Toosweet Anan, and others.