By:brightwebtv.com /nana Asare barimah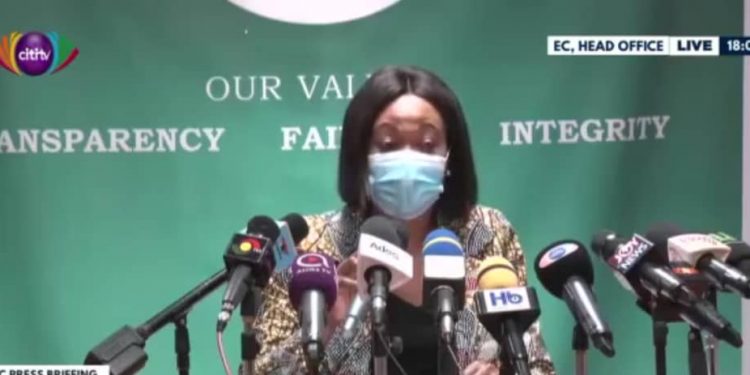 More than 44,000 registration officers have been recruited for the voter registration exercise being organized by the Electoral Commission (EC).
The Chairperson of the Commission, Jean Mensa, says all the officials have been well trained to ensure an exercise without hitches.
Updating the public ahead of the exercise, the EC Chairperson was confident that, the training of the registration officers will go a long to ensure that the register that will be used in the 2020 polls is credible and robust.
"A major concern a number of citizens have raised with us has to do with the quality of our temporary officers. We have recruited, trained, and deployed over 44, 000 staff into the field. We are confident that the training provided them to operate efficiently and professionally. As part of the training, we have drummed home the importance of instilling in them the principles of integrity, fairness, and transparency in all their activities throughout the registration process".
She also mentioned that they [recruits] have been made to sign an oath to bear true allegiance to the principles underlying the conduct of the registration exercise.
"We have also introduced a code of conduct that spells out guidelines for their activities. As part of the recruitment exercise. All temporary staff signed an oath pledging to abide by the rules and regulations governing their activities," she said.
Additionally, 7, 000 health personnel have also been deployed to assist with the sensitization and compliance of safety measures given the outbreak of the Coronavirus infections in the country.
"It is important to note that the Ghana Health Service released some 7,000 health assistance to each of the registration centres nationwide. It is expected that the health assistance will assist us in ensuring strict adherence to the safety protocols outlined by the Electoral Commission and all of these safety measures, we will rely on your cooperation dear citizens."
"We believe and know that it will not be easy, but with your compliance with the above measures we should be able to carry out all the registration procedures safely," the EC boss said.
8,000 voters biometric kits have also been deployed for use on the field.  They have been thoroughly tested for the exercise.
Meanwhile, some 5, 000 technicians will also assist with the registration process.
Jean Mensah briefed the country today, Monday ahead of the registration exercise which begins tomorrow, Tuesday, June 30, 2020.
The compilation of the new voters' register will be done in phases with eligible Ghanaians going to polling stations to register.
Based on the ruling of the Supreme Court last week, only a Ghanaian passport or Ghana Card will be admitted as proof of identification for the registration.
Over the weekend, the Electoral Commission (EC) released the list of centres for the planned voter registration exercise.
The exercise will end on August 6, 2020.
Source: Citi