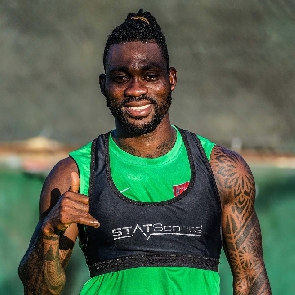 Ghana winger, Christian Atsu
A timeline of Christian Atsu's whereabouts just before a 7.7-magnitude earthquake suggest he may have had a miracle survival from a ninth-floor fall.
Former Chelsea and Newcastle winger Atsu, now at Hatayspor, was discovered alive in the rubble after a tremor shook Turkey and Syria on Monday. He is now in a stable condition at the hospital, agent Nana Sechere told CNN.
Meanwhile, the Mirror has reported that Atsu survived a ninth-floor fall from his apartment, with a timeline provided by Sechere suggesting Atsu was at home in his high-rise when the earthquake occurred.
"The last I heard from him was at midnight on Sunday," Sechere said. "Christian and his team-mates were playing poker until 3:30 a.m. at a friend's apartment.
"The journey back to his apartment was around half an hour. He returned at 4 a.m. and the earthquake started around 20 minutes later. I didn't know anything until I received a call from a club official at 5 a.m, asking if I'd heard from Christian. He told me Christian's building had been completely destroyed and that they couldn't get hold of him.
"I was hoping he was awake and that the earthquake hadn't happened while he was sleeping. He was in an 11-story building and he was on the ninth floor. The club officials were trying to help me find him but it was so hard because, understandably, they were trying to find their own friends and families as well."
Atsu was unaccounted for through most of Monday, and news of his survival emerged publicly on Tuesday. He has not yet released his own statement or account of what happened.
The earthquake has devastated Turkey and Syria, with the death toll up to 7,000 and still rising at time of writing on Tuesday night. Professional Turkish goalkeeper Ahmet Eyup Turkaslan was among those killed.
Football players are rallying to raise money for relief organisations. Turkey international defender Merih Demiral is leading the auction of autographed kits with Cristiano Ronaldo and Leonardo Bonucci included in the charity drive.
Watch the full story about Christian Atsu being trapped in the rubble